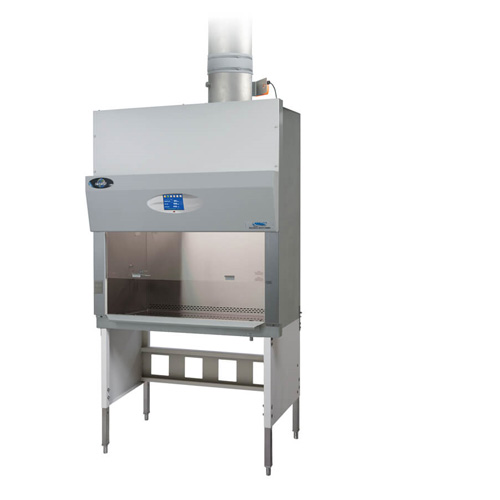 Biosafety Cabinets are specialized workstations widely used in clinical, pharmaceutical, life science and industrial laboratories where experiments need highly contaminant free environment. Also known as biological safety cabinets and biohazard safety cabinets, these are made in three different class types such as Class 1, Class 2 and Class 3; in which Class 2 is widely used in microbiology laboratories because it provides protection to both product as well as personal. It is biosafety level factor which decides which BSc should be used in laboratory. These cabinets are considered safer than other clean benches because such BSCs effectively eliminate risks to operator / staff, samples and the environment from pathogenic biological agents (PBA) and microorganisms responsible for spreading airborne infection.
The purpose of using biosafety cabinet in microbiology laboratory is to protect laboratory personal as well as surrounding environment from exposure to biohazards while working with infectious agents.
There are many uses of bio safety cabinets such as chemotherapy preparation, drug formulation, and animal cell culture processing and in TB lab for manipulation of mycobacterium tuberculosis culture etc.
There are three types of class 2 biosafety cabinets are made. It is the type of work which decides which class 2 BSc should be used in laboratory. Below is short description about all types:
Type A2: recirculation approximately 70% air and 30% exhaust
Type B1: recirculation approximately 30% air and 70% exhaust
Type B2: Does not recirculation but exhaust 100% air
We are Biosafety cabinet manufacturers in Ahmedabad India. Having factory based in Ahmedabad, the company has been manufacturing customized Biosafety Cabinets Class II Type A2 and sell them at reasonable price throughout India and overseas market including African and Middle East countries. We have technicians, machinery and knowledge that capable us to serve you with your choice of Biosafety cabinet that may vary in dimensions, associated accessories and control points etc. Made of branded parts, these cabinets are highly effective to maintain maximum level of safety; hence, considered a necessary part of any research laboratory.
These cabinets are ergonomically designed to provide long service life. Only thick metal sheets and pipes are used in construction so that you may get the finest and safest Biosafety Cabinet in the market today.
In order to minimize spread of airborne bacterial and viral organisms, the use of filter is crucial; therefore, we use 99.97% efficiency HEPA filters for particle size 0.3 microns in our biological class 2 type A2 safety cabinets. These air filters are of reputed brands in the market, economical in price and easily replaceable. ISO 5 / Class 100 quality, supply and exhaust through HEPA filters are done. Inflow velocity remains approx. 105 fpm (0.5 m/sec), while down flow velocity remains approx. 55 fpm (0.3 m/sec). 70 % air is re-circulated and 30% exhaust.
Our Biosafety cabinets are fitted with fluorescent lights outside working zone. UV lamps are fitted inside working zone in such a way that the operator cannot see them directly. An hour meter is connected to UV lamp. Electrical sockets are fitted to run any instrument under the working area; in addition, service fixtures for air, gas, vacuum and water are also fitted.
We also make biosafety cabinets class 2 type B1 and B2
Particular

Specification

Construction
SS 304 /316 / Powder coated MS or GI sheet
Work top
SS 304 /316
Controller
ON/Off switches for Cabinet, Light & Blower
Air filtration
HEPA filter 99.99% efficiency
Air recirculation
70% recirculation and 30% exhaust
Average Airflow Velocity
Inflow: Minimum 0.45 m/s (90 FPM) at 8" front opening
Down flow: 0.30 m/s (65 FPM)
Fumigation
In-built fumigation port
Noise level
Less than 60 decibels
Standard Fittings
• Magnehelic pressure gauge
• Fluorescent lamp
• UV light

Optional
• Microprocessor based controller system
• Digital display of real time inflow / down flow air velocities
• Alarm for variation in air flow and blocked blower
• Sash height alarm
• UV hour meter
• Virus burnout