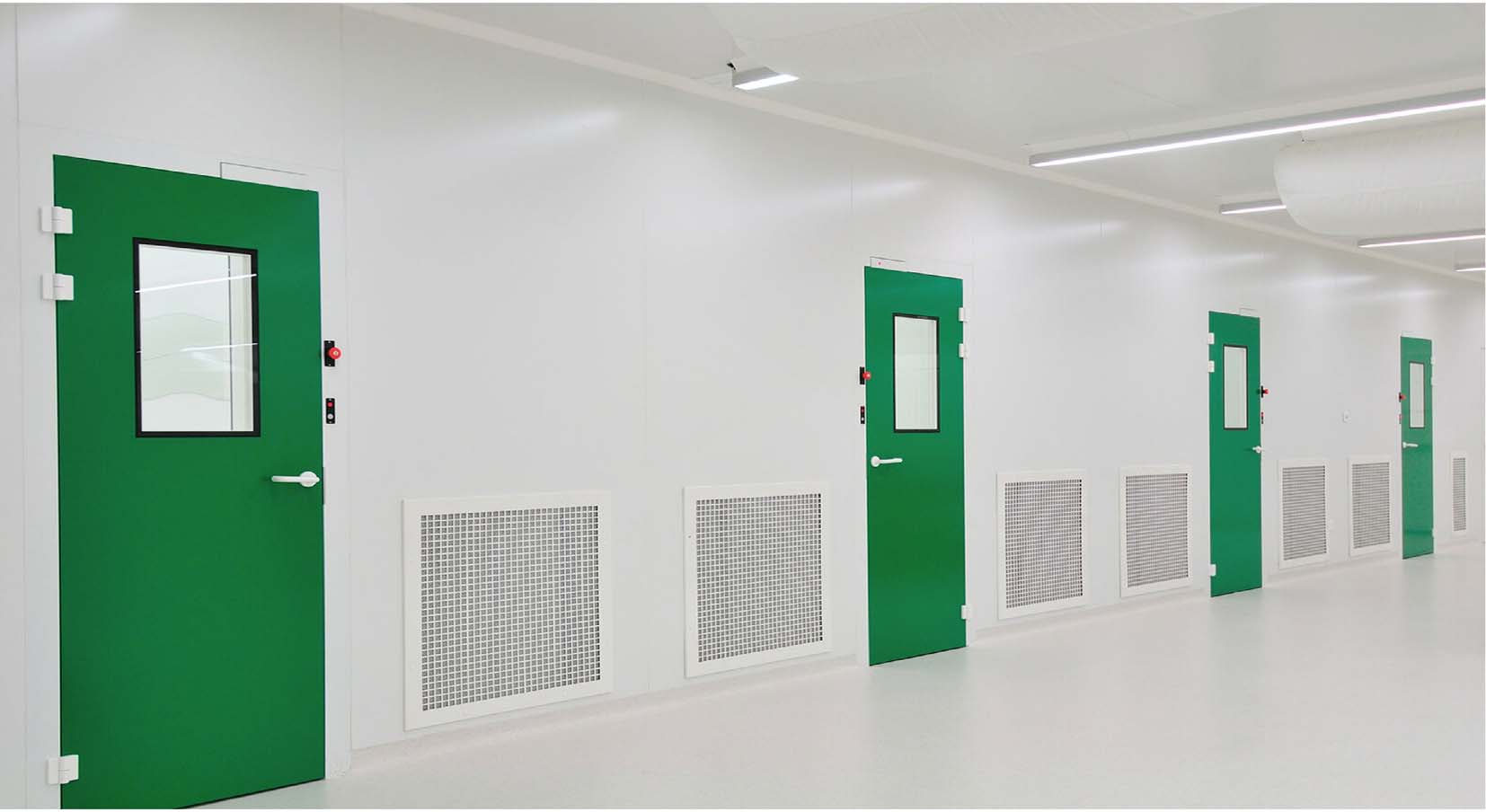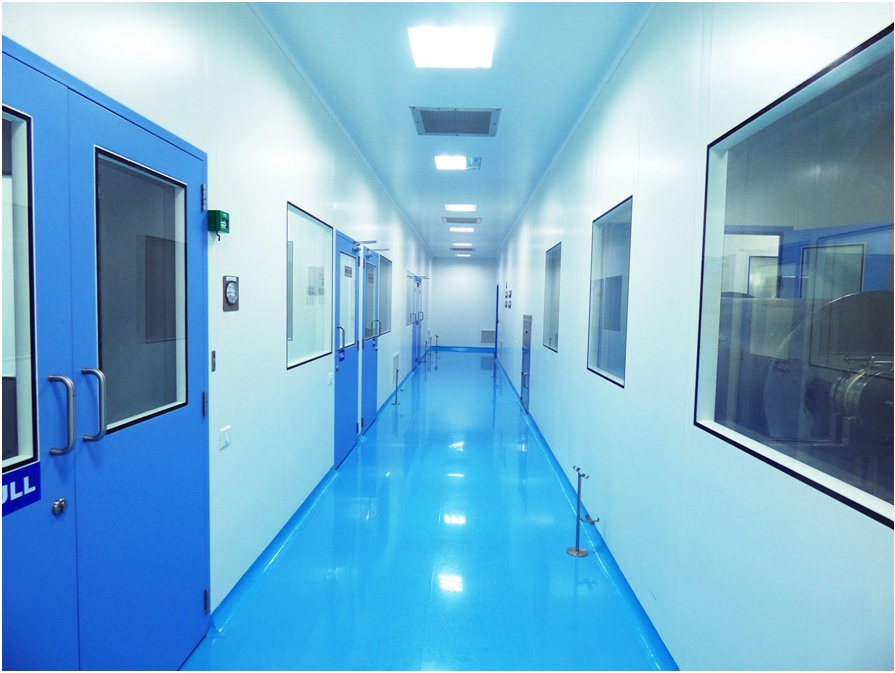 Modular Clean room Manufacturer
Modular Clean Room Manufacturers
Apex Industries is the prominent leading Manufacturer & Exporter of finest quality Modular Clean Room sandwich puf panel for Pharmaceutical, Hospital, Modular Operation Theater applications, Our products construction heaving rigid framework for the puf panel comprises an assembly of externally chamfered with extruded aluminium profiles and high grade raw materials (Like : PPGI / S.S. 304 / HPL Sheets) and incorporated with polyurethane foam with 38kg/mtr³, we are manufacturing Clean Room puf panel in 50mm thickness, 80mm thickness & 100mm thickness, also we makes the Modular Clean Room sandwich puf panel anti-corrosive and sweat free (with thermal insulation). and imported self-drilling and self-tapping galvanized sheet metal screws adds to the aesthetic & more times stronger of the framework. Modular clean room wall partition panels, helping industries to accomplish any clean room project in the shortest possible time. All our panels are equipped with a unique intermediate locking system that ensures perfect fitting of the panels and gives an absolutely sleek look to your clean room. The integrated locking system entitles easy & fast assembling of the panels, which in turn help accomplish any project in a shortest possible time. Further, as our panels are pre- engineered, it does not require any buffing or cutting causing mess/disruption at a site, the wall skin of the offered modular clean room partition panels is manufactured from HPL, Stainless Steel, Aluminium Sheet, Galvanized Skin Pass Steel Sheet and CRCA material, wherein the middle layer is filled with the top grade functional material, making the panels 100% fireproof or fire resistance and soundproof. Moreover, all the top & bottom tracks along with the vertical sides of the panels are made from the aluminium profiles to prevent rusting and bestow long-lasting durability. Clean Room Partition Manufacturer in India
Clean Room Partition Manufacturer in Ahmedabad
These easy to fit modular clean room wall partition panels are highly accolade in pharmaceutical, biotechnology, hospitals for thoroughly preventing outside contamination and maintaining utmost hygiene standards.
CUSTOM SOLUTION IS APEX INDUSTRIES STANDARD
We are also specialized in providing customized solutions for any type of modular clean room, wall partition panel as per plant requirement. Customers are welcomed from any nook and corner of Globe. Our extensive range of the clean room panel includes:
HIGHLIGHTS OF OUR SANDWICH PANELS / PARTITIONS
Top and Bottom profiles are of Aluminium to avoid rusting and have long term durability.
All our Sandwich Panels / Partitions are available in solid and with factory fitted View panel which are supplied for ready Installation on site.
Easy for any Operation as each Panel has a unique intermediate locking System which facilitates to remove the Single Panel or Add on to the Panel is very easily possible.
Better Flexibility, Durability, Aesthetic and Elegant appearance with the use of Aluminium Profile.
All panels are insulated with polyurethane/ PIR / Rock Wool insulation and as per customers' requirements.
Major Benefits of Apex Industries Clean Room Panels
Easy to assemble & disassemble
Easy to move as light in weight
Rust free construction imparts long term durability
The Intermediate locking system enables easy fitting
All corners are curved with aluminium press
Easy to Clean & Maintain
Ensure operation Flexibility and Durability
Key tags: Modular Clean Room Puf Panel | Modular Clean Room Panel Price | Modular Clean Room Puf Panels Suppliers | Modular Clean Room Panel Manufacturers in India | Modular Clean Room Puf Panel in Ahmedabad | Modular Clean Room Panel Price in Ahmedabad | Modular Clean Room Puf Panels Suppliers in Ahmedabad | Modular Clean Room Panel Manufacturers in Gujarat | Modular Clean Room Insulation Panels price | Modular Clean Room Insulated Panel | Modular Clean Room Sandwich Panels | Modular Clean room Puf Sandwich Panels | PUF Sandwich Panel Manufacturer in India | Insulated Sandwich Panel Manufacturers in India | Rockwool Sandwich Panel Manufacturers in India | Polyurethane Sandwich Panels | Modular Clean Room Wall Partition Panels | Clean Room Puf Panel | Clean Room Panel Price | Clean Room Puf Panels Suppliers | Clean Room Panel Manufacturers in India | Clean Room Insulation Panels price | Clean Room Insulated Panel | Clean Room Sandwich Panels | Clean room Puf Sandwich Panels | PUF Sandwich Panel Manufacturer in India | Insulated Sandwich Panel Manufacturers in India | Rockwool Sandwich Panel Manufacturers in India | Polyurethane Sandwich Panels | Modular Clean Room Wall Partition Panels