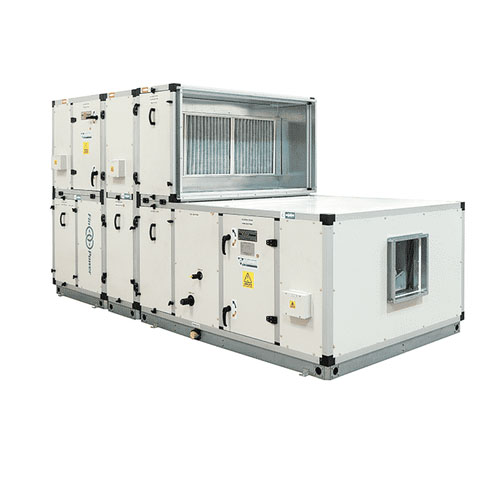 TREATED FRESH AIR HANDLING (TFA) UNIT
We are the leading manufacturer and exporter of Treated Fresh Air Units (TFA) are also known as Fresh Air Handling Units (FAHU).
Treated Fresh Air Units provide a complete solution for Ventilation, to maintain good IAQ and Energy Savings in a single Unit. Incorporating the highest recovery Enthalpy Wheels, Eco Fresh, these units are ideal for Hospitals, Hotels, Malls, Offices, Airports, Educational Institutes, Pharma facilities, Cold Storages, in fact, all the air-conditioned areas. The Units are in modular construction with options to add modules for heating, cooling, humidification, high-efficiency particulate filters, gas phase filters, sound attenuation, mixing, etc.
The casing is AHRI Certified for Leakage, Thermal Transmittance, and Thermal Bridging.
Manufactured in master practices state-of-the art fully vertically integrated facility with world-class machinery, units have a unique design to incorporate enthalpy wheels to maximize energy recovery efficiency and minimize cross-contamination.
Unlike Air Handling Units that are used to recirculate the air in an enclosed space, TFAs cater to large, fresh airflow and recovery needs by treating outdoor air using filters and condition it some degree using a cooling system.