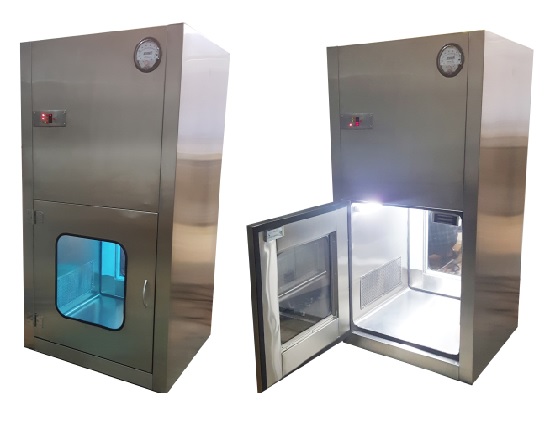 Dynamic Pass Box Manufacturers in Ahmedabad, uncompromisingly designed to suit your specific requirements vary from industry to industry. For example, in pharma manufacturing facilities, Food Industries, Hospitals, there must be minimum man & material movement and there is zero room for contamination between the different classified areas. To achieve the desired classification and to maintain the integrity of products and processes, we design the Pass Box to allow material transfer with little personnel movement. It also aids controlling ingress of particulate contaminants into the clean room.
Our Pass Boxes follow global and of highest design standards, giving you the option of the type of pass box depending on the containment level and transfer of material from one clean room to the other. We also supply them for flame-proof areas.
DYNAMIC PASS BOX Features
Dynamic Pass Box Design acc. to GMP-Guideline easy to clean etc.
Doubled Skin Cabinet with Doors and Toughed Glass
Body Fabricated in SS 304/316 Structure
Re-Circulated Filtration System
Electro Magnetic Interlocking System
HEPA filter H14 filter for supply air and exhaust air
EU-6 Grade Pre-Filter With SS 304 Flange
Air velocity: 0.45±0.05 mps (90±20FPM) Below Six Inch of Grill
Magnehelic Differential pressure gauge .
Double Walled Construction
Electro magnetic Interlocking System
Mechanical / Pneumatic Interlocking
Tow Stage Filtration
Statically & Dynamically balanced Motor-Blower

Centrifugal type Air blower with Speed Variable

Measuring system for pressure differential and volume flow or air velocity (If Required)
Pre-Installed White and UV Germicidal Light
Feather Touch controller for Blower/Light/Pressure Display
DOP Port/Atmospheric Nozzles
Sound Level Minimum 65db On Scale
Power Supply Single Phase 220V 50 Hz

Digital Pressure Gauge with Alarm Hour Meter

optional features of DYNAMIC PASS BOX
It is a rectangular compartment and it has two doors at its extreme.
The doors have a glass viewing window so that the material kept for transfer can be seen.
One door opens in the cleanroom and the other one opens in the other room.
Both the doors are electrically interlocked type, hence it only allows one door to be opened at a time.
It restricts the direct air flow between the cleanroom to the other room.
It also reduces the need for opening the cleanroom door frequently for transferring the material.
It helps in fulfilling the aim of transferring the material without compromising the level of cleanliness in the cleanroom.
The Dynamic Pass Box is specially designed Pass Box, that is fitted with HEPA Filter.
The Dynamic Pass Box acts as a pressure chamber and it only allows clean air to enter the clear room while maintaining the cleanliness level of a cleanroom.
Special Features of Dynamic Pass Box
Easy to clean
Easy to integrate
Advanced air tightness
Interlocking System
Heavy duty body