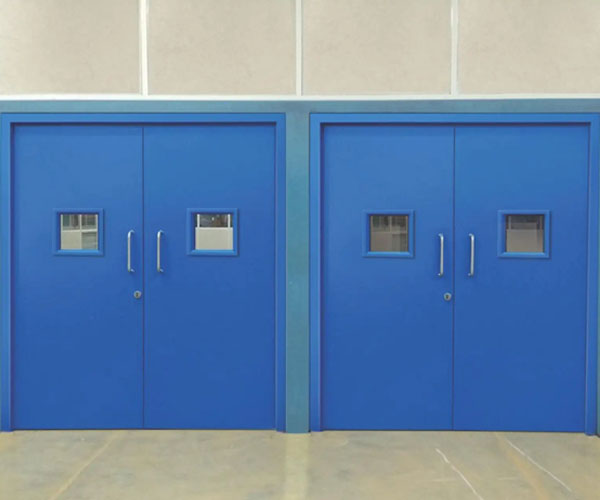 HMPS Steel Door - Hollow Metal Pressed Door
Constructed of high grade galvanized steel (RAL color options available)
Manufactured from 18G to 22G
Flush type using vertical mechanically interlocking seams
Adhesive impregnated core of honeycomb, polystyrene, polyurethane, welded or laminated steel stiffeners
Standard hollow metal doors are 30MM / 42MM thick and are painted with a prime coat which is now suitable for Powder Coated painting. They are made of channel reinforced steel sheets and filled with a polystyrene, Mineral wool, kraft honeycomb or polyurethane core.
Hollow Metal Doors have a superior performance for durability and strength compared to alternate materials. They can take more abuse and are much easier to maintain than wood or aluminum doors. As a result, metal doors have the lowest overall total cost of ownership of any other material.
Doors Unlimited provides a full line of metal doors for new and retrofit construction projects in the institutional, industrial and commercial markets. We only provide hollow metal doors from manufacturers that meet the strict guidelines of Steel Door Institute (SDI).
Doors Unlimited carries Branded Steel craft hardware prep locations but we do offer replacement or retrofit doors with hardware prep locations from all manufacturers.
Insulated with polystyrene core
Non-handed design
16 or 18 gauge
Cold rolled or galvanized
7–9-gauge hinge reinforcement
Reversible hinges
Powder coated or Spray painted
Up to 3-hour fire rated