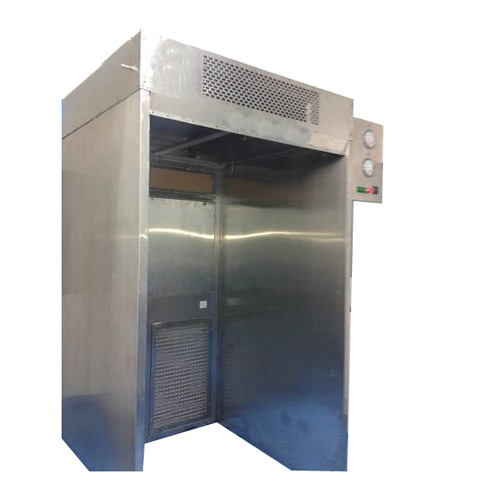 DISPENSING BOOTH (REVERSE LAMINAR FLOW SAMPLING BOOTHS FOR CLEAN ROOM)
We are a leading – premium & eminent products producing organization manufacturing, supplying and exporting of Reverse laminar flow unit across the globe, Dispensing booth is a kind of Reverse laminar flow filtration cabin which is employed in dispensing, sampling and weighing of Hazardous products (powders and chemicals) in pharma, biotech and chemical industries. Such units work on reverse laminar flow working principle and provide protection to operators, products / samples and surrounding environment.
Dispensing booth is usually made of stainless steel and equipped with three stage filtrations (10µ Pre-filter, 3.0µ Intermediate and 0.3µ HEPA Filter) to maintain the ISO class 100 under the unit with the help of high statics motor blower assembly. In order to measure the pressure of HEPA filter, magnehelic gauges are fitted. Pre-filters are washable.
We make dispensing booth for pharma industry. Our team carefully designs dispensing booth units according to user provided specifications and the job is completed with construction in our factory then installation, commissioning and validation at client site. Also known as sampling booth or weighing booth, these units are made requirements of pharmaceutical and biotech companies in mind. Before dispatch, each unit is tested in-house at various parameters. If you are looking for such units, please email us your query, we will provide you precise price quotation with all important details.
Particular

Specification

Construction material
SS304 / SS316
Filtration
· 3 stage filtrations
· Pre-filter 10µ
· Fine filter 5µ
· HEPA filter 0.3µ

Air flow
Recirculating laminar air flow
Air Velocity
90 ± 20 cfm (Average)
Blower unit
Heavy duty motor blower assembly
Illumination
1, 2 or 3 or as required Tube lights
Power supply
220 Volts 50Hz
Fittings
· Mains ON/OFF switch
· Light ON/OFF switch
· Blower ON/OFF switch
Optional
· Magnehelic gauge
· UV light
· Anti-static PVC Curtains
· On-site validation
· IQ, OQ, PQ documents