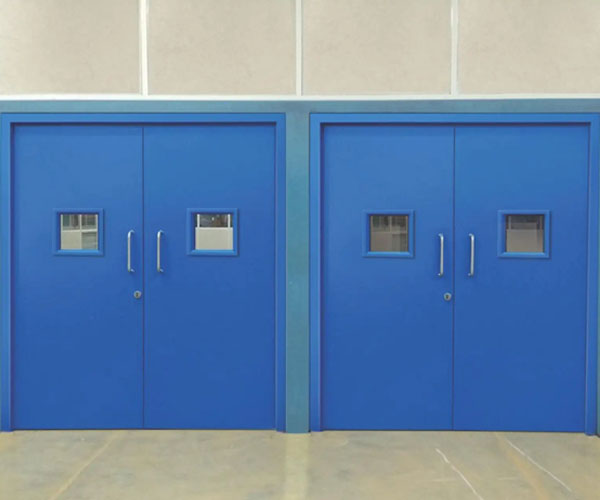 Hermetically Sealed Cleanroom Doors
Apex Industries industrial Hermetically Sealed door is specially designed for use in cleanroom environments in hospitals, laboratories and other facilities where demands on hygiene and infection control are high. APEX INDUSTRIES provides the best doors in the manufacturing sector designed using high-quality raw material and the latest technology.
Designed to restrict air infiltration and climate contamination, hermetically sealed doors by APEX INDUSTRIES Technologies provide installation service and a reliable infrastructure for patient logistics and surgical procedures in the operation theatres. The door is designed wide enough for easy movement of the patient and allied infrastructure in and out of the room. As part of instrumentation and control, various access control systems are implemented, including mechanical, electrical locks, key card access and other systems to restrict unauthorized and accidental access to the room. Vision panels are available on demand. The door operator is designed to handle the high operating frequency and speed, essential for a busy hospital or its Modular Operation Theater.
Our engineering and technical team at APEX INDUSTRIES Technology provide the best & reliable solutions such as Hermetically Sealed Doors by us. These doors also feature an emergency power supply in the form of UPS and a battery pack. This ensures continuous operation in case of power failure in the critical application of healthcare and research.
Hermetically Sealed Doors of APEX INDUSTRIES Technologies find application in Hospital Operation theatres as Operation Theatre Door, in sensitive areas such as calibration labs or pathology labs, etc.

Rubber edge for airtight sealing

Fast opening and closing

Radar-based operation

Specialized power source for operation during power failure

Used in sensitive areas like operation theatres, hospitals and clean rooms
We at APEX INDUSTRIES Technologies supply Hermetically Sealed Doors for commercial and industrial applications. Our doors manufactured with international feature high build quality and performance. We also provide all types of after-sales support & customer services including AMCs, breakdown, Preventive Maintenance, one-time maintenance, etc. Our expert service team deals with multiple business sectors and offer clients support for all hermetically sealed doors at the best price and quote of APEX INDUSTRIES make and other make as well.
Also check – Automatic sliding glass door | Clean room door | Fire Rated Door